Want to use Bluetooth headphones with your TV, game console, or stereo? Do so easily with the Micca LB-DAC long range Bluetooth transmitter! With flexible connectivity options and the latest Bluetooth technology for excellent sound quality, the LB-DAC can serve as the audio hub for all your devices using RCA, 3.5mm, or optical digital connections. There's so much this little box can do!
Powerful, Flexible, Easy
For example, it can decode optical digital audio from a TV and transmit it to two pairs of Bluetooth headphones, a stereo/soundbar, and a pair of wired headphones all at the same time – simply choose the method you want to listen without the need to swap cables or flip switches. It can also accept audio input from the headphone jack of a smartphone or computer, and transmit it to a pair of Bluetooth speakers. There are many more possibilities described in the manual – however you want your system configured, the Micca LB-DAC likely provides a way to make it happen!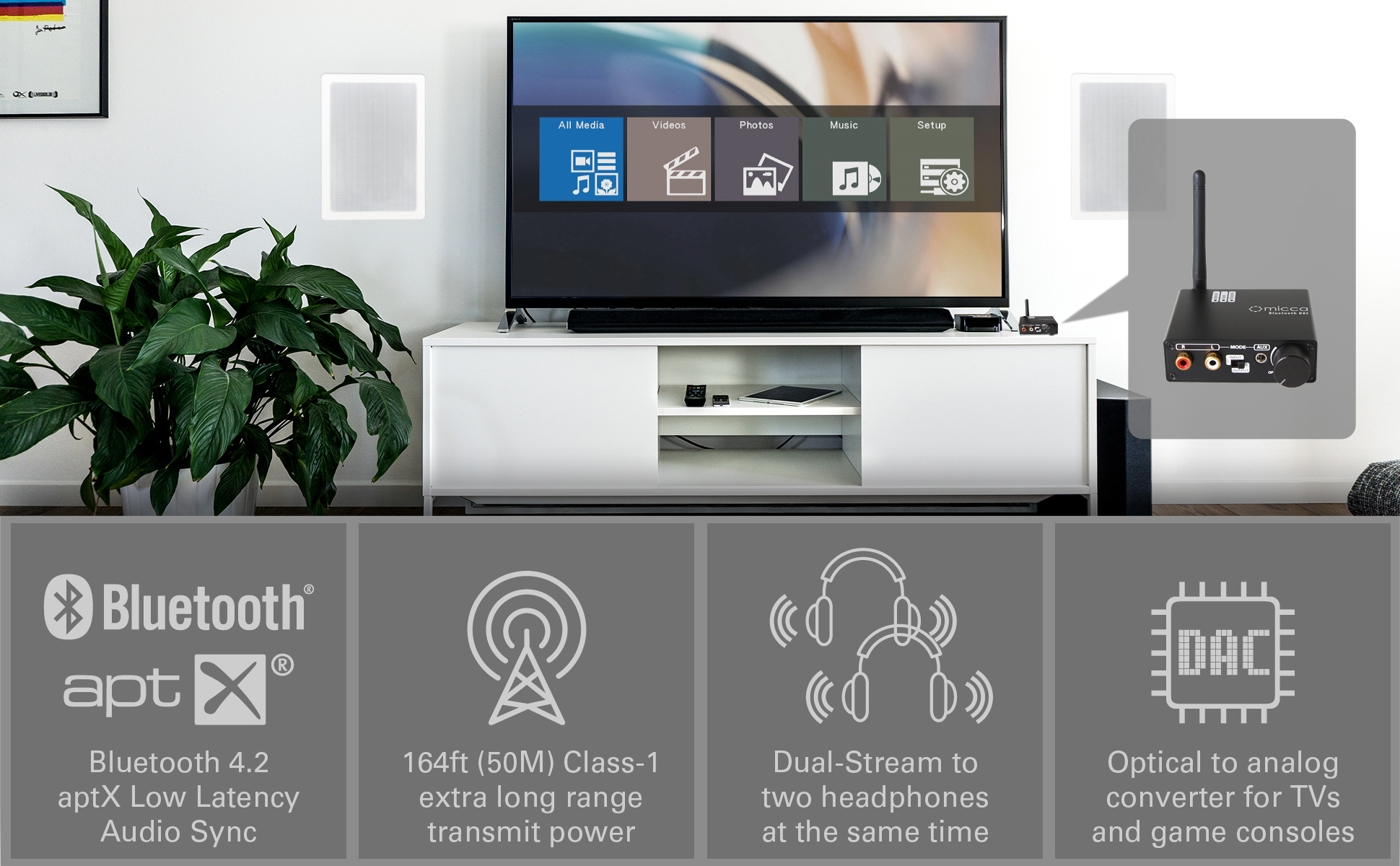 In addition to advanced Bluetooth 4.2 technology, the LB-DAC offers aptX Low Latency capability. When used with headphones that also support aptX Low Latency, the audio from movies and TV shows will be in sync with the video and not have any distracting delays.
The LB-DAC is a high power Bluetooth transmitter with up to 164ft (50m) line-of-sight range when used with standard Bluetooth headphones, or up to 330ft (100m) when paired with a Class-1 Bluetooth receiver. Indoor range will be reduced and depend on room layout.
Use the Dual-Stream capability to send audio to two pairs of headphones at the same time! Share and enjoy music with a friend or loved one without bothering others! NOTE: Low Latency operation not available when using dual-stream feature.
Convert optical digital audio from a TV or game console up to 192kHz/24bit into high fidelity stereo sound, and send the audio over Bluetooth for wireless enjoyment! Optical passthrough feature can be used to send the optical signal to a soundbar or stereo system.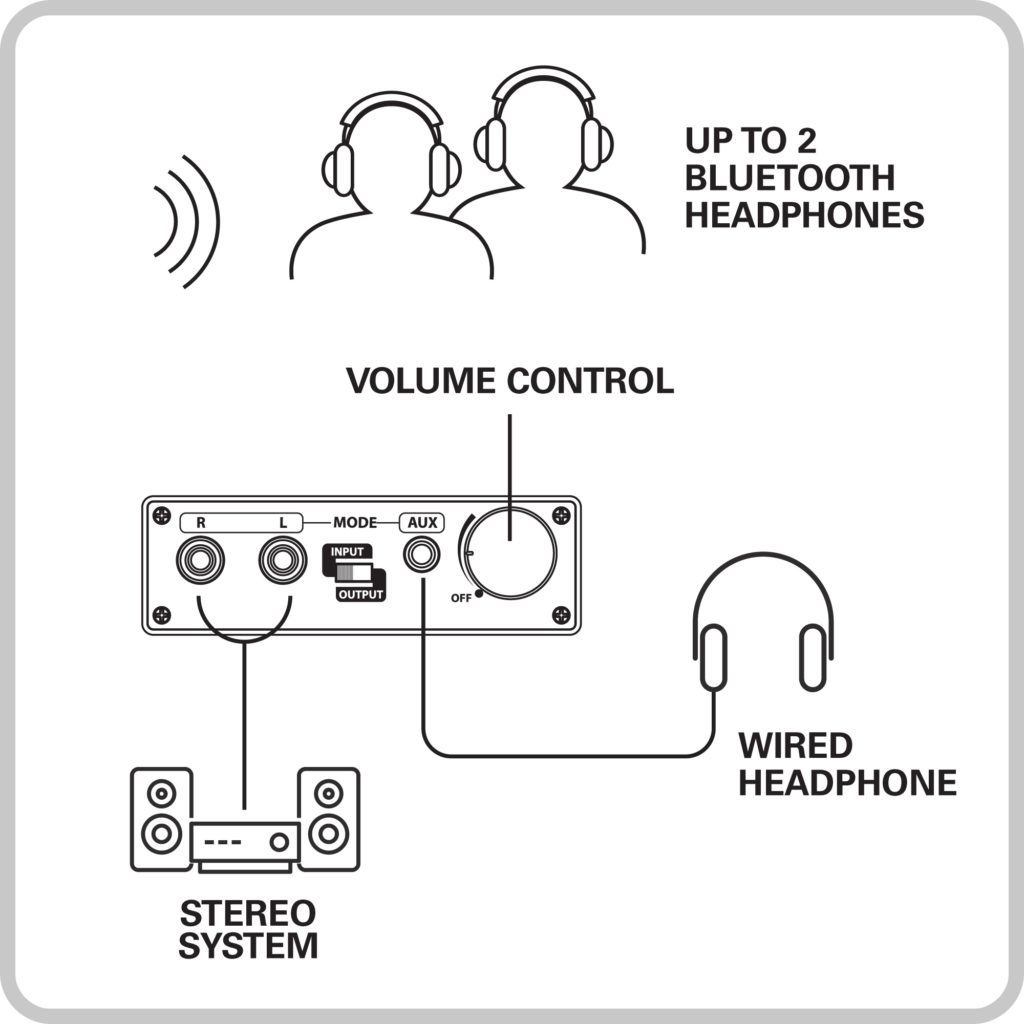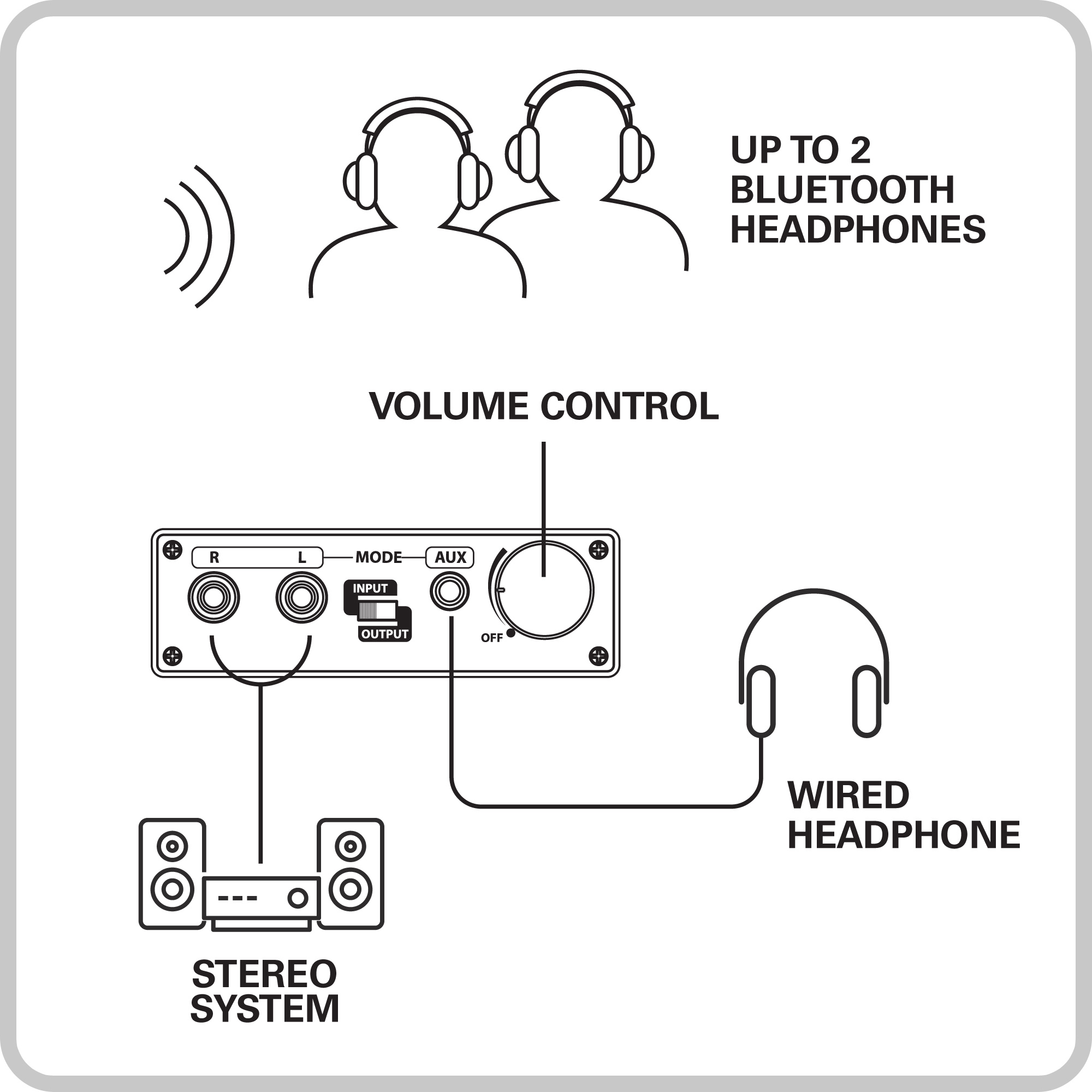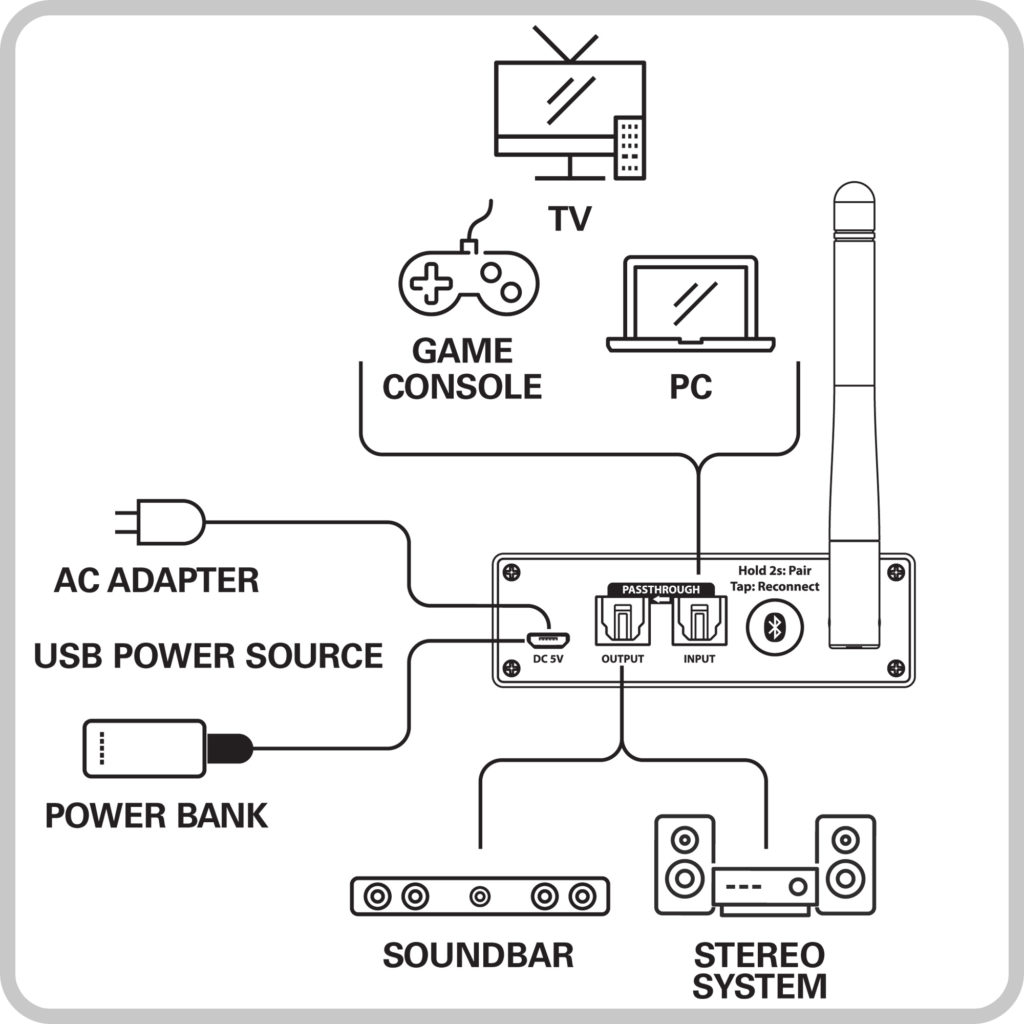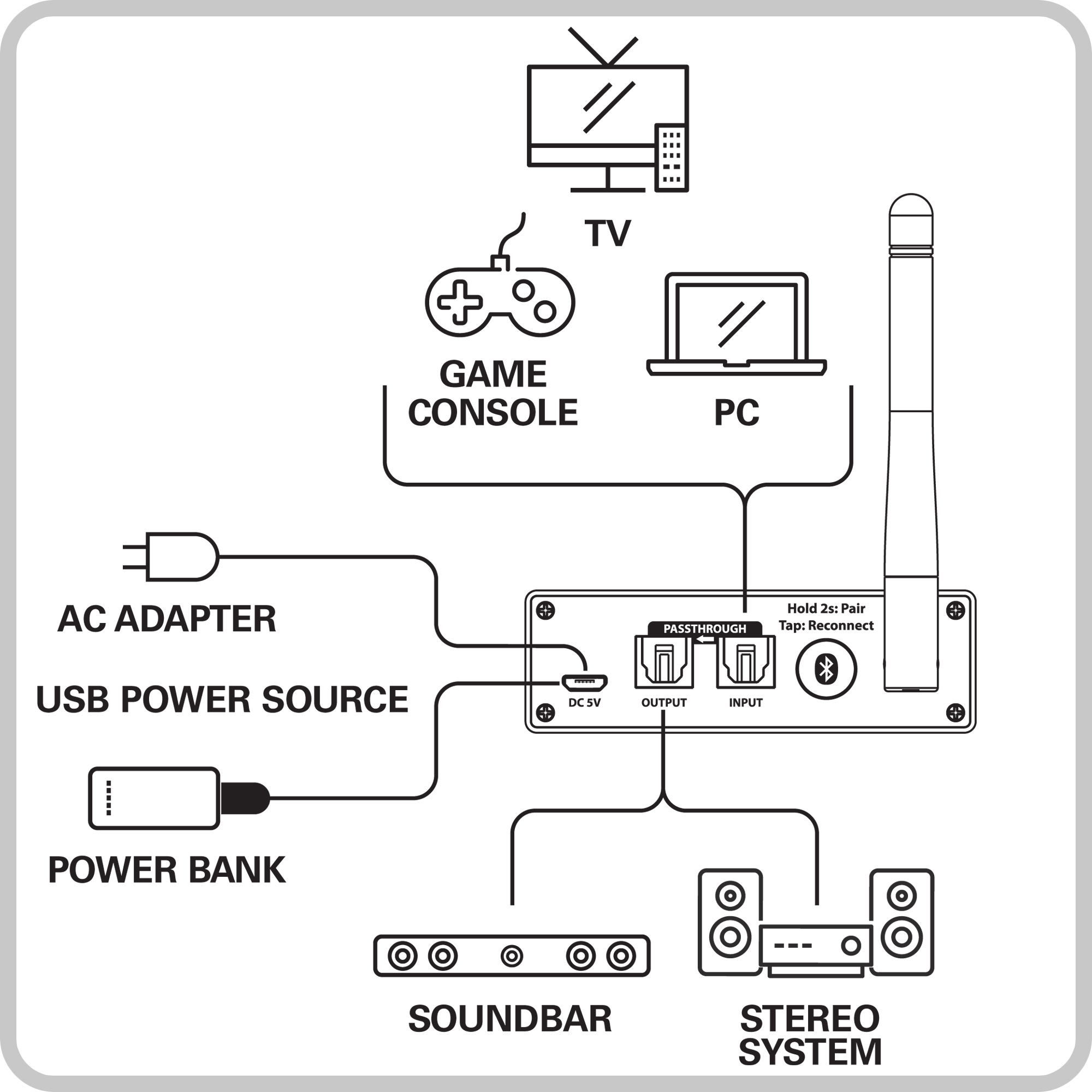 Bluetooth or Wired Listening
In addition to transmitting wirelessly to up to 2 pairs of headphones at the same time, the LB-DAC can also output high quality audio to a stereo system or drive a pair of headphones!
Convenient Volume Control
A convenient volume control knob is built in to adjust the volume of the Bluetooth, RCA stereo, and headphone output from the LB-DAC!
Optical Audio Passthrough
Want to use Bluetooth but still need to send audio to a soundbar or stereo? No problem! The optical audio passthrough feature allow exactly this scenario. No switches to set, it just works!
USB Powered
Draws power from any standard USB power source. A USB power cable is included. AC power adapter not included.
Specifications
BT Version: V4.2, AD2P, Core, aptX, aptX-LL
Range: (Ideal) Up to ~330ft (100m; (Typical): 33ft to 164ft (10-50m)
Audio Output: 2 Vrms, 16Ohm minimum load
Power Source: 5V/0.5A DC, USB jack
Dimensions: 3.5 x 1 x 3.1 Inch; 4.2 Oz (119g)
What's Included:
Micca LB-DAC
Optical cable, 3.5mm-RCA cable, 3.5mm-3.5mm cable
USB power cable
User's manual
Feature Highlights:
Use Bluetooth headphones with your TV easily with the Micca LB-DAC
Use as the audio hub for all your devices using RCA, 3.5mm, or optical digital connections
High power Class-1 Bluetooth device that is usable up to 164ft (50m) range
Qualcomm aptX Low Latency technology for imperceptibly low audio delay
Ensure that your TV's optical output can be set to PCM