A12MKII
The A12MKII stands well above its sleek design delivering 60 Watts of dynamic Class AB output into 8 ohms. This integrated amplifier supports your favorite sources including MM Phono Stage, analog, digital, PC-USB and wireless Bluetooth. Optimized circuits and a 32-bit DAC deliver spacious and open reproduction of the music.
The A12MKII Integrated Amplifier stands well above its slim, sleek design profile designed and engineered for music lovers. Powered by Rotel's oversized in-house manufactured toroidal transformer the A12MKII delivers 60 Watts of clean, dynamic Class AB output power into 8 ohms. A Moving Magnet Phono Stage, 4 RCA analog, 4 digital, PC-USB and high quality wireless aptXTM Bluetooth input ensures connection to your favorite sources.
The premium 32-bit Texas Instruments DAC extracts genuine and accurate details of the music with optimized circuits preserving the integrity of the audio stream.
Slim and powerful the A12MKII delivers on Rotel's iconic brand heritage.

2 x 60 Watts of robust
Class AB power

Moving Magnet Phono Input for Turntable connection

Wireless aptX™ Bluetooth

Texas Instruments premium 32-bit/384kHz Digital to Analog Converter

Certified Roon Tested
Engineered with care.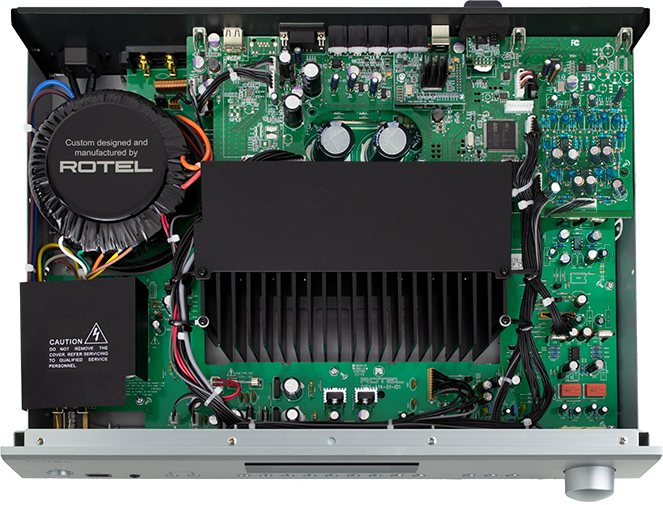 DIMENSIONS (W × H × D)
430 × 93 × 345mm
17″ × 3.6″ × 13.5″
FRONT PANEL HEIGHT
80mm (3.15″)
POWER REQUIREMENTS
120V, 60Hz
POWER CONSUMPTION
230W
STANDBY POWER CONSUMPTION
<0.5W
NET WEIGHT
8.76kg (19.31lbs.)
BTU RATING (4Ω, 1/8th power)
632 BTU/h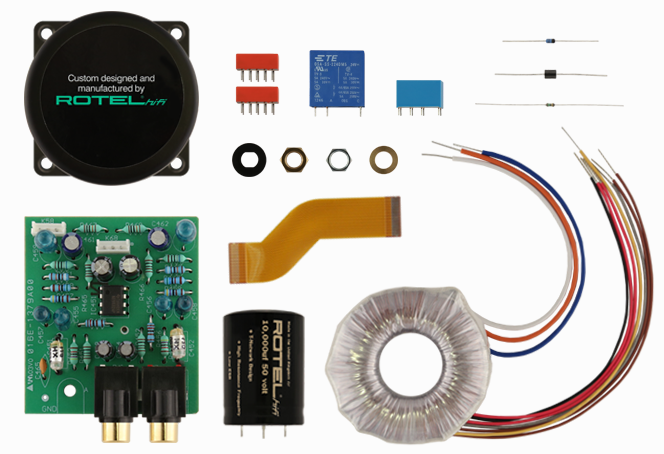 MAXIMUM POWER OUTPUT
120W/Ch (4Ω)
CONTINUOUS POWER OUTPUT
60W/Ch (8Ω)
TOTAL HARMONIC DISTORTION (THD)
<0.018%
FREQUENCY RESPONSE
Line Level Inputs: 10Hz – 100kHz, 0±0.5dB
Digital Inputs: 10Hz – 90kHz, 0±2dB
Phono Input: 20Hz – 20kHz, 0±0.5dB
S/N RATIO (IHF "A" Weighted)

Line Level Inputs: 100dB
Digital Inputs: 103dB
Phono Input: 90dB
I
NTERMODULATION DISTORTION (60Hz:7kHz, 4:1)  <0.03%
DAMPING FACTOR 220
INPUT SENSITIVITY
Line Level Inputs: 230mV
Digital Inputs: 0dBfs
Phono Input (MM): 3.4mV
INPUT IMPEDANCE
Line Level Inputs: 24kΩ
Digital Inputs: 75Ω
Phono Input (MM): 47kΩ
INPUT OVERLOAD
Line Level Inputs: 4V
Phono Input: 50mV
PREOUT LEVEL: 1.2V
OUTPUT IMPEDANCE: 470Ω
TONE CONTROLS: ±10dB at 100Hz / 10kHz
DIGITAL INPUT: SPDIF LPCM (Up to 24-bit/192kHz)
PC-USB: 
USB Audio Class 1 (up to 24-bit/96kHz)
USB Audio Class 2 (up to 32-bit/384kHz)*
*Driver installation required
Roon Tested
SoundStage! Access – A12 MKII Review
The recently launched A12 MKII is already receiving some praise from the audio press. Dennis Burger awarded the amp with the SoundStage! Reviewer's Choice Award, saying "I was blown away by the Rotel's delivery".
"…I was immediately staggered by not only the tightness of the bottom end but also the sheer force of it all."
"The percussive guitar attacks that kick off this song are also a great test of whether or not you're dealing with a competent DAC, and the Rotel passed that test with flying colors, rendering all the squiggly little intricacies with utter precision and fantastic detail."
"…the A12MKII rendered the attack and decay of each note with unimpeachable exactitude and wonderful warmth."
"It simply delivers a delightful mix of dynamics and detail, and its built-in DAC is top-notch."